Considering a destination wedding on 30A?
Over the past 15 years, we've photographed weddings in nearly every wedding venue in the South Walton and Destin areas. When it comes to Florida destination weddings, 30A is not only where we live and where our studio is, it's also one of the best places in the world to gather your friends and family for an epic wedding week that they'll be talking about for decades.
We would like to introduce you to our top five favorite wedding venues in the area!
Alys Beach
You will be hard pressed to find another place like this one. We've traveled the world shooting weddings and Alys Beach is the kind of wedding venue that stops you dead in your tracks. We have to pinch ourselves sometimes, thinking that this is walking distance from our home.
Alys Beach offers several options when it comes to locations to host your ceremony. Of course, the sandy beach for those who want to get married barefoot, to the sound of the Gulf of Mexico. There's also the Central Park green which provides a woodsy feel, with room for your reception tent just steps away. The Kelly Green on the beach side also serves dual purposes for the ceremony and reception, a popular choice. For the most eye-popping ceremony spot, the Gulf Lawn takes the cake. This iconic lawn, adjacent to the beach, is flanked by two large columns and is truly breathtaking. Those seeking to have a large reception may want to choose the magnificent Caliza Pool area. Caliza has very limited availability for receptions, only during low season, so you'll want to plan ahead for this one!
One added bonus in Alys Beach is the spectacular design of the homes on site. When it comes to getting ready photos, the space can have dramatic impact on the images. The homes in Alys provide a stunning, modern backdrop for your day.
Finally, we have to compliment the Alys Beach Weddings team as being quite possibly the most professional and responsive team in the area. We highly recommend working with them for your big day.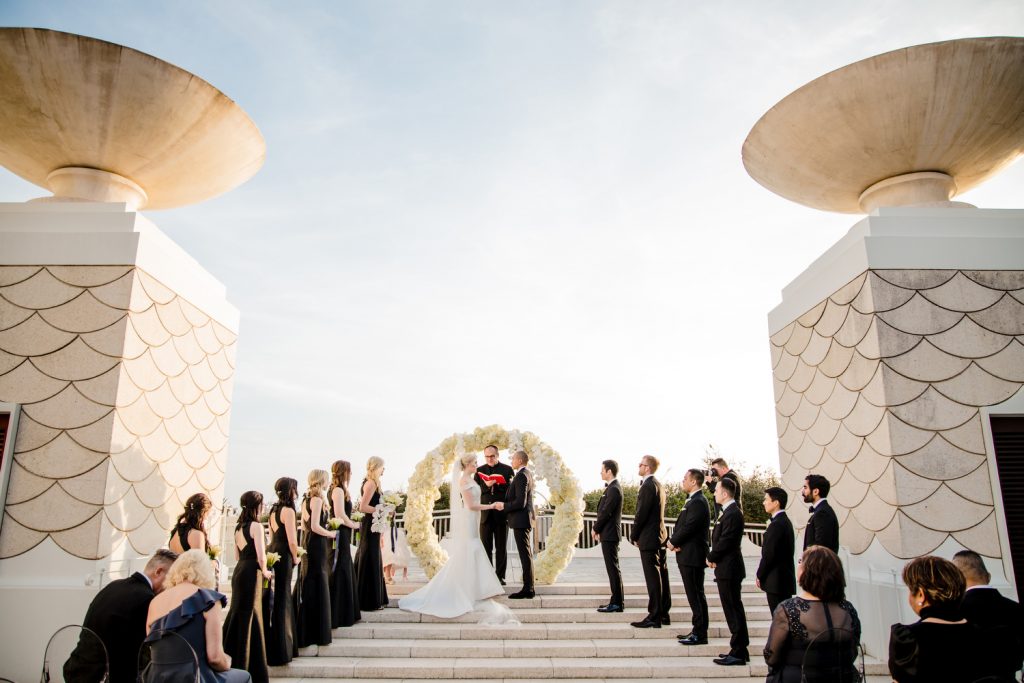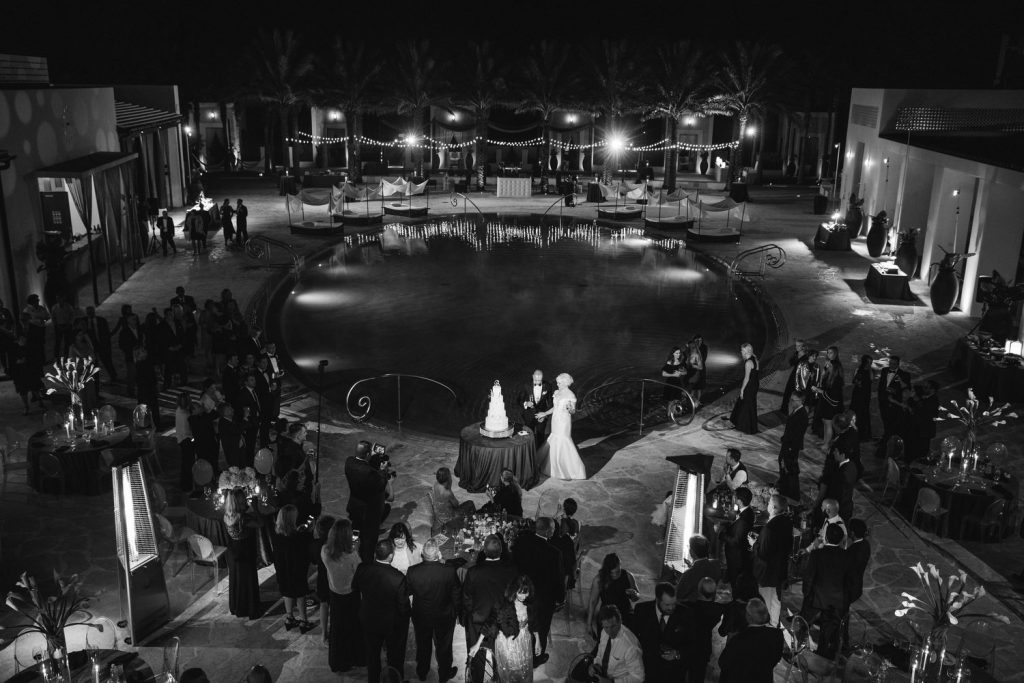 Rosemary Beach
If you've been scouring the web for amazing places to get married, Rosemary Beach has almost certainly popped up. With it's Mediterranean vibe, bustling and vibrant eateries and shops, and positioning on our incredible beaches, this spot makes a lot of top destination wedding venue lists. There is plenty to keep your guests busy throughout the week and a variety of accommodations to fit everyones needs. And much like Alys, after the party, everyone can casually walk (stumble?) back to their rentals.
There are numerous locations on the property to hold an event. All of them can hold your ceremony, reception, or both! There is also the option of the sandy beach for your ceremony. And many of the restaurants in Rosemary Beach can also accommodate your rehearsal dinner as well. We've attended rehearsal dinners at both Paradis and Edwards in the past.
Couples are often drawn to the instantly identifiable Town Hall. It's central presence in Rosemary Beach, with beautiful lines, open interior, and classic adjacent courtyard make it an obvious choice. We've seen this space used in so many ways… Ceremony only, with reception on a nearby green; ceremony in the courtyard with reception inside the Town Hall; and the ever exciting "Town Hall Flip" where couples have their ceremony inside and cocktail hour takes place on the courtyard while the interior is quickly flipped into a magical reception space! That last one takes a top-notch team of vendors to pull off, so you'll want to have the best of the best on board.
The expansive lawns in Rosemary are regularly transformed into wedding venues. Both lawns on the Gulf of Mexico, called the Eastern Green and Western Green, offer space to hold your entire event. Imagine walking up the stairs from your beach ceremony to the sight of an amazing reception space on the lawn. Fun fact: the Western Green is the one with the Pearl Hotel in the background. One final space is on the north side of the property and that's the St. Augustine Green. Our understanding is that this one holds a few more people than the others. It is positioned against the quite beautiful Owners Center and provides a great space for a nice big clear top tent with plenty of room to spread out.
If you're planning a Rosemary Beach wedding, you will need to meet a requirement to choose from their exclusive vendor list. You will find Modernmade Weddings on that list, so give us a call to talk details!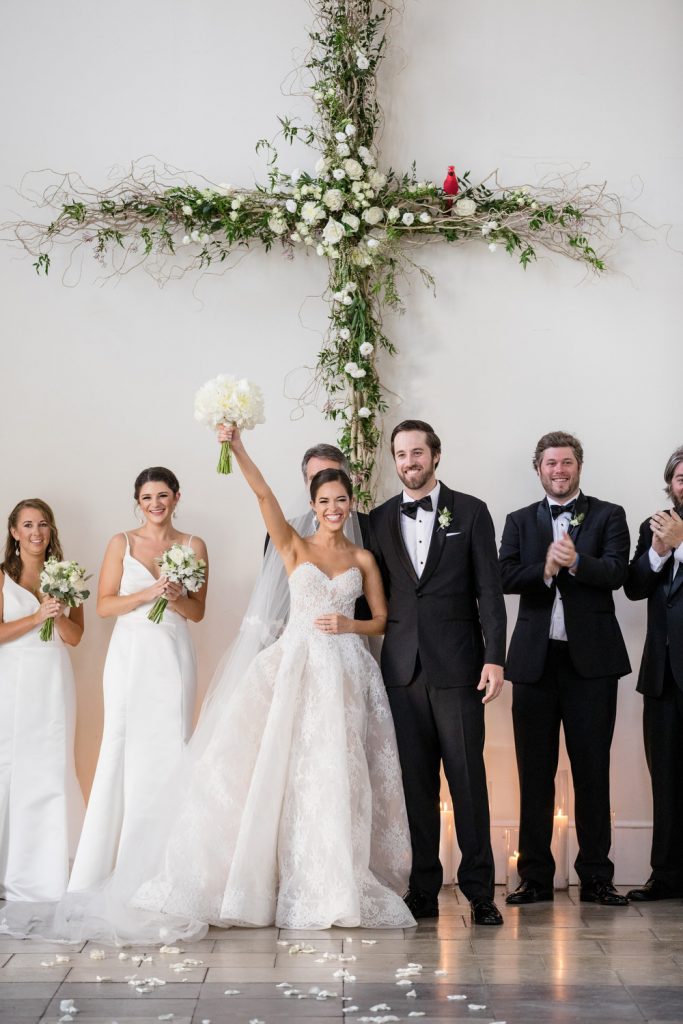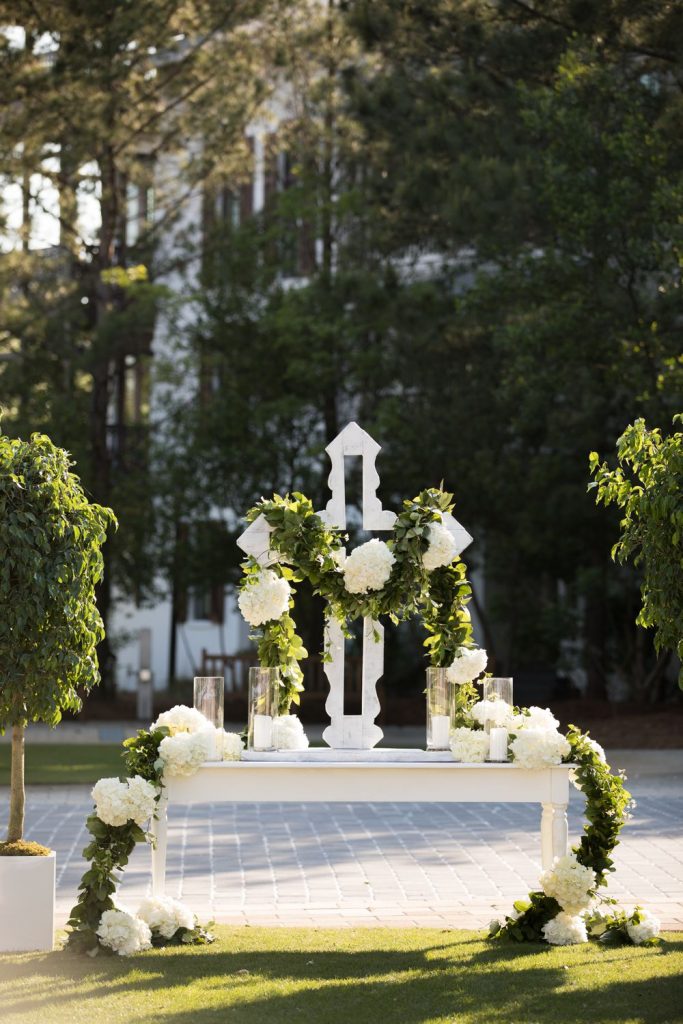 The Pearl Hotel – In Rosemary Beach
Wait, what? Yes, The Pearl Hotel is in Rosemary Beach, but it's technically not part of it. So, we're giving the Pearl it's own spot on our list. To book a wedding at The Pearl, you'll need to contact the hotel directly, not Rosemary Beach. This highly awarded boutique hotel is situated on Main Street, just across from the Western Green. You'll see it prominently featured in many of the photos from the Western Green and it's can't-miss black and white palette is like a lady in a fancy dress… you just can't take your eyes off of it!
This full-service hotel is everything you can ask for. They offer all the goodies like valet and room service. They have a fantastic little rooftop bar, as well as a top notch restaurant, Havana Beach Bar & Grill, on the ground floor. The pool area is the most instagrammed spot and they have a couple of intimate locations available for weddings, including the rooftop space that overlooks the pool. In addition, there's a ballroom available, which really helps if you're the type who has a breakdown thinking about backup plans. The corner penthouse suite is, of course, our favorite room to cover getting ready in, so make sure you request to book that one for your wedding day.
If you're looking for easy, laid back, all-in for a wedding on 30A, this is probably your best bet!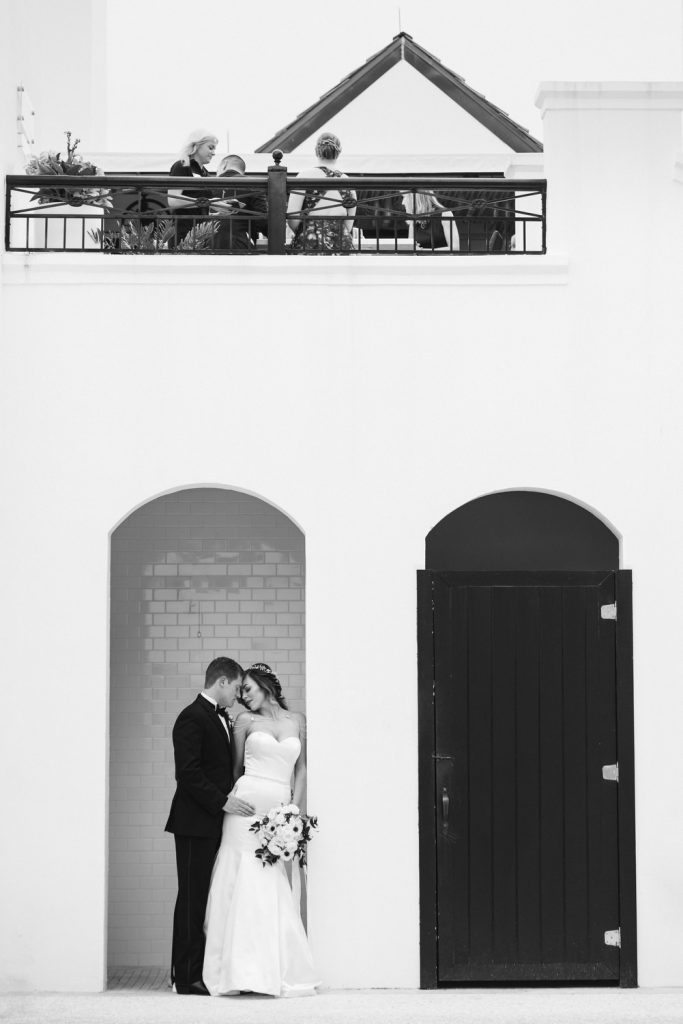 Seaside Chapel
Seaside is synonymous with 30A. The ground-breaking new urbanist development has turned into a hive of year round activity. It's definitely the busiest, most buzzing spot in South Walton. The vibe in Seaside could be described as Coastal Americana. Kids big and small run free around the amphitheater, licking their favorite ice cream from Heavenly Desserts while mom sips a glass of wine from Modica Market. From the open air boutique Per-Spi-Casity to the famous giant rubber ducky outside of Duckies Shop of Fun, your guests will love the casual, care-free atmosphere. We highly recommend watching the sunset from Bud & Alleys rooftop bar one night, where they ring the bell when the sun sinks below the horizon.
The Chapel in Seaside Florida has graced the pages of many a wedding album. It's quintessential charm, tiny size, but expansive feeling draws couples from around the globe hoping to stage a beach flavored destination wedding with a traditional chapel setting.
In addition to the Chapel, Seaside can host ceremonies on the beach or the park adjacent to the Chapel, DiBicci park. Just beyond the smaller DiBicci Park is Ruskin Place. Surrounded by artist abodes and covered in a canopy of native trees, the lawn in Ruskin Place provides an ultra-romantic outdoor enclave for a reception. Their expansive Lyceum area has been the scene for many receptions and the recent improvements to the space really make it spectacular. Another fantastic option for a reception is at Bud & Alleys back deck. Here you'll truly capture the outdoor, coastal energy that makes Seaside so special.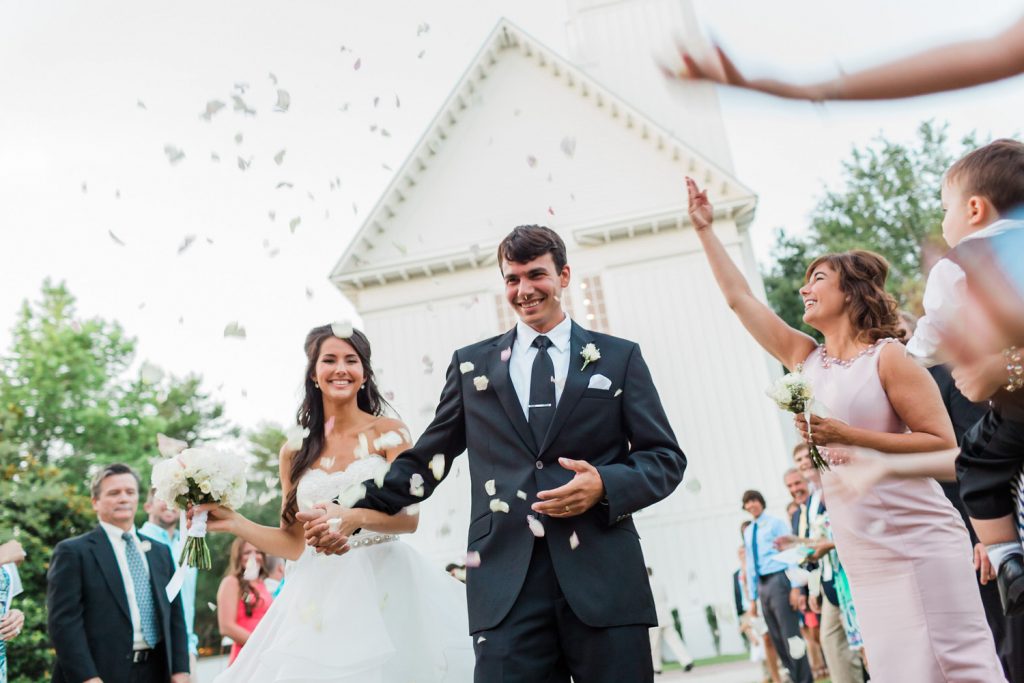 Watercolor Inn & Resort
Our final hotspot on the list of top 30A wedding venues is the Watercolor Inn & Resort. The warm, camp style vibe of Watercolor is criss-crossed with southern charm. It's the largest of all the planned communities in the 30A area. A week in Watercolor usually involves lots of bike riding, an afternoon at the Beach Club Pool, wine and cheese at Wine World, and most definitely… a beach bonfire.
The Inn, much like the Pearl Hotel in Rosemary, is an acclaimed full-service hotel and this one is directly on the beach! You can spend the week in the lap of luxury, chilling with guests of all ages at one of the several pools or on the beach. Alternatively, you can choose to rent a home in the Watercolor community and get your whole family together for making great wedding week memories.
Watercolor's venues are very diverse. Ceremonies are held on one of several green spaces like Cerulean Park or the Western Lake Park. The beach of course is always a popular choice as well. Flexible spaces like the Boathouse have functioned as ceremony, cocktail hour, or reception spaces. The Inn Green is an idyllic square lawn just beside the beach that we absolutely love as well. And if you're looking to have an indoor reception, Watercolor is probably going to be on the top of your list. The Lakehouse is the largest indoor wedding venue on 30A and the Inn has a ballroom available as well.
Watercolor has so much to offer, we really think you've got to tour it to see how different each space is, so give them a call and you're in for a treat!
More To Come…
That wraps our tour of our top five favorite destination wedding venues on 30A. These are just a handful of choices couples have when choosing a wedding in our beautiful part of the Florida Panhandle. In an upcoming post, we will talk about a few others like the Watersound properties, Eden Gardens State Park, the Vue, and our favorite spots to elope on 30A!
If you have any questions, we've photographed in nearly every wedding venue on 30A, so reach out and we would love to help you! And of course, if you're looking for a destination wedding photographer who is local to 30A, contact us right away to schedule a consultation.